Match Analysis
Videos and Articles discussing current tactical trends in recent matches
Arsenal vs Atlético Madrid 4/26/18
In a game dominated by the sending off of Atlético Madrid's Vrsaljko in the 10' minute, Atlético survived and put on a masterclass in concentration and defending. Many would say that Arsenal missed a great opportunity but once the second half began at 0-0 Atlético had time to recover and refocus and the 2nd half was very measured and disciplined.
Arsenal Attempted 34 crosses in the game at 35% success rate (InStat). Arsenal needed to get behind the backline of Atlético Madrid but that did not happen very often, most of the time they were forced to play crosses from wide spaces deeper than are often effective, especially against defensive specialist like Godin and Oblak.
When Arsenal did get behind the defense to create crossing chance they did score a goal from a wonderful ball by Jack Wilshere which was clipped to the back post and finished by Alexandre Lacazette. These types of runs and crosses from behind the back line really put the defense in a tricky situation because of the body shape. In the examples above you can see that the body shape of the defenders is sideways on but still facing slightly forward, away from the goal. In the examples below, when Arsenal get behind the backline the defense is now facing their own goal, which is a much more uncomfortable and difficult situation to clear a ball.
In conclusion, Atlético Madrid did a very good job of denying the spaces behind them and forced Arsenal to play side to sided without much penetration. When Arsenal did create real quality chances either the quality of the service was just off or the finish was just off, or in the case of the Aaron Ramsey chance below just good goal keeping. In the return match Arsenal will need more penetration to create quality chances and move on into the Final.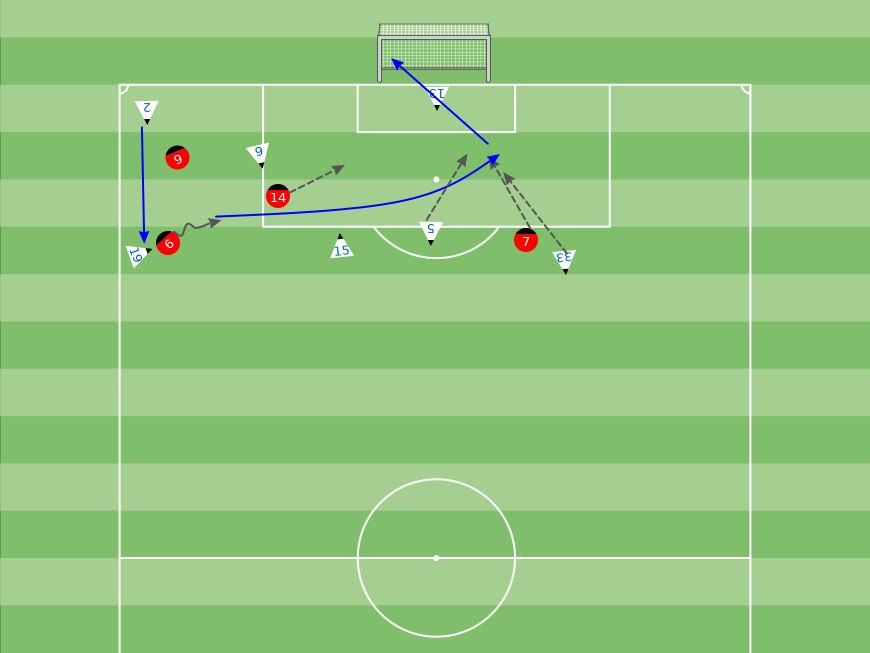 Manchester United goal vs Tottenham 1-1
In this goal, Manchester United have just attacked and stay high to apply pressure to the back line of Tottenham who are attempting to build up play. Trippier (Tottenham #2) plays the ball forward to Dembélé (Tottenham #19) along the sideline. Dembélé is closed down by Pogba (Manchester United #6) and tries to turn out of pressure when Pogba wins the ball off of him. This creates a dangerous transition moment in Tottenham's defensive third of the field. Alexis (Manchester United #7) had stayed forward to pressure now sprints into the space between Vertonghen (Tottenham #5) and Davies (Tottenham #33). Pogba spots Alexis' run and plays a delightful cross which Sanchez heads across the keeper to tie the game. 1-1
Tottenham Goal vs Manchester United 1-0
FA Cup Semifinal - Saturday April 21st
In this goal, Ashley Young (Manchester United #18) goes forward to pressure Trippier (Tottenham #2) which leaves space on the right side of the field for Tottenham to Attack. Eriksen (Tottenham #23) breaks from midfield into the space left open and Sanchez (Tottenham #6) plays a wonderful ball down the side line for Eriksen to run onto. Once this ball is played Dele Alli (Tottenham #20) breaks toward the box hoping for a cross from Eriksen. Pogba (Manchester United #6) cannot keep pace with Eriksen which creates the opportunity for Eriksen to take one touch into space the deliver a hard driven ball between the Manchester United back line and goalkeeper, resulting in a tap in for Dele Alli. 1-0 Tottenham 11'
Arsenal vs Chelsea
1/24/18
Special Thanks to Coach Javi for video and editing